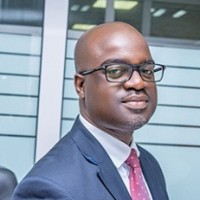 Ronnie possesses a diverse working background, ranging from software development to banking. Pre-university, he worked as a software developer at SoftTribe, Ghana's leading software house. His post University work life started as a Business Analyst at Deloitte & Touche and then Performance Management and Strategy at Access Bank, Ghana. He then went on to become the Head of Commercial Banking at Energy Commercial Bank.
Over the period, he has gained considerable skills in managing customer relations, management consulting and investment solutions. He has also developed a wide network across corporate Ghana which he utilises to add value to our clients' business.
Bernard Buagbe – Consultant
Bernard holds an MBA from the University of Professional Studies and CIMA Certificate. His career in finance, accounting and relationship management spans over 20 years having previously worked at PWC, Asabea Engineering, Nextcom Ghana, Belstar Capital, Energy Commercial Bank.
Our Team
Our team consists of Business and Financial Consultants, Accountants, Tax experts, Business Strategists and Bankers with combined experience in excess of 100 years in the following industries:
Consulting and Financial Advisory
Banking and Finance
Accounting
Public Sector
Commerce and Manufacturing
Haulage and Logistics
Fintech
Agribusiness etc